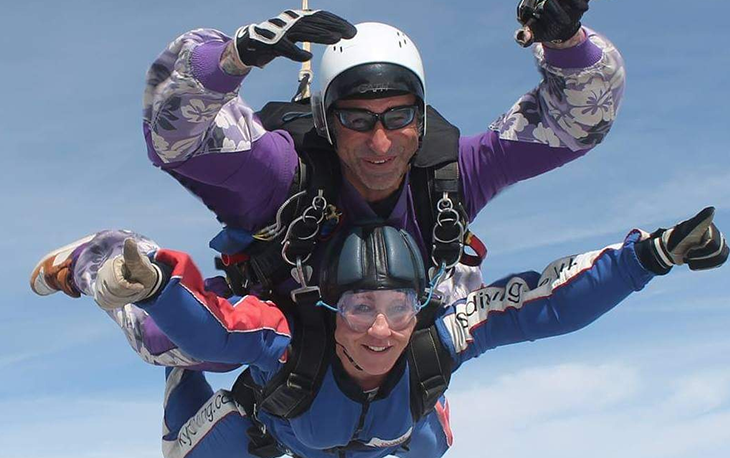 A nurse took a freefall from 15,000ft with those who arranged her husband's funeral at Hammerton's Funeral Directors, Barnsley, with a goal of raising thousands for the hospice that cared for him during his illness.
Diane Lukey teamed up with the Hammerton's team for a sponsored skydive for Barnsley Hospice two years after her husband passed away due to cancer.
She said: "I cannot fault Barnsley Hospice and Hammerton's Funeral Directors for how they helped Dave and I through the most difficult time of our lives.
"The care provided by hospices is invaluable, yet so many have been struggling to secure funds since the start of the Covid-19 outbreak. I hope to therefore encourage donations from my community by doing something I'm terrified of."
Hammerton's is a regular supporter of Barnsley Hospice, having sponsored its annual Light up a Life memorial service for years and provided funds for a beautiful glass window in its reception area.
Melanie Torley, Operations Manager at Hammerton's, therefore jumped at the opportunity to organise a fundraiser for the hospice when she saw its appeal for sponsored skydives.
She said: "I shared the advert with my colleagues and immediately received interest, with five of them now registered to freefall for Barnsley Hospice as I cheer them on."
Funeral Arranger Mary Walton, a long-time friend of Diane and Dave who took charge of arranging his funeral, asked Diane if she'd join her and her colleagues in memory of Dave.
Diane said: "When I saw Mary's text I thought she was crazy. But when she mentioned it'd be a great thing to do for Dave, that was all the motivation I needed."
Hammerton's set up a MuchLoved fundraising page with Mary also creating a JustGiving fundraiser, where friends, family and colleagues have so far donated over £2,500 and £250 respectively.
Diane also set up a JustGiving page that has raised more than £800 in memory of her husband.
The group of six mentally and physically prepared to take off from Hibaldstow Airfield for the 15,000ft free fall for Barnsley Hospice.
Melanie said, "The day was fantastic, the atmosphere at the airbase was amazing! We couldn't have arranged for better weather either. A beautiful blue sky peppered with a few white fluffy clouds.
"Dawn and Mary were the first to jump, and there was a really touching moment once they had landed, when Mary ran to Dawn and hugged her. Both were elated to have completed their jumps.
"Diane, Phil and Craig were on the second plane. Phil and Diane were both glad to have landed, and Craig was on top of the world when he landed and wanted to go straight back up!"
Donations can be made to the Hammerton's MuchLoved page at https://charityskydive.muchloved.com/ and Mary's JustGiving fundraiser at https://tinyurl.com/3f58v8hn
Donations can also be made to Diane's JustGiving page at www.justgiving.com/fundraising/diane-lukey