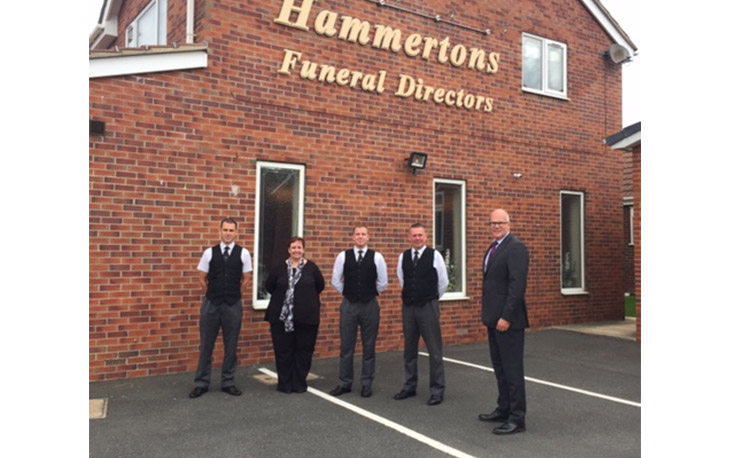 Hammerton's Funeral Directors, Barnsley, has adopted creative ideas and community initiatives to support local families through the Covid-19 outbreak.
Hammerton's joined the Funeral Partners family of high-quality funeral businesses in 2020 at a time when funeral directors were needed more than ever. Melanie Torley, Operations Manager at Hammerton's, described: "There was little government guidance at the start of the outbreak and a lot of questions locally from clients. But with the help of Funeral Partners' robust policies and procedures we were able to continue caring for families safely."
To maintain social distancing, many families and friends couldn't use limousines for their loved ones' funeral processions during the first wave of the pandemic. The Barnsley funeral directors therefore fitted their fleet with internal screens between the driver and passengers to help reduce the risk of transmission and enable at least part of the traditional send-off people sought.
Melanie said: "There were still restrictions for clients from government measures and internal guidelines, but at all times we aimed to carry out their loved ones' wishes."
Limits on the number of people attending funerals also led Hammerton's to plan special procession routes so friends and family could stand alongside roads leading to the service and pay their respects. Melanie said: "There have been beautiful sights of people lining pavements, all socially distanced, and clapping as the hearse drives past."
Following a comprehensive, 'Covid-secure' risk assessment at the Hammerton's funeral home, Melanie was delighted to still be able to offer families visits to the chapel of rest. She said: "Families being able to visit loved ones in our on-site chapel of rest is an important part of the grieving process, and we are pleased to offer this in a Covid-secure way."
Hammerton's also donated £2,000 towards Lucas Gardens, a memorial garden being created in a tranquil part of Barnsley Crematorium for young people who pass away. Melanie explained: "A family we cared for wanted somewhere special to scatter their son's ashes, so they came up with the idea of Lucas Gardens for young people like him.
"Local and national lockdowns have resulted in work stopping and starting, but we are keen to see the peace that Lucas Gardens will give Lucas' family, and others in their position, in order to help the grieving process."
Funeral Partners has supplied Hammerton's with technology such as web cams so virtual arrangements can be made for those self-isolating, and Melanie and her colleagues look forward to resuming their regular community initiatives, such as monthly bereavement café sessions, when restrictions finally ease. She concluded: "Not being able to provide physical comfort and support has been tough on the team and our families.
"We're huggers here at Hammerton's, so it'll be great to give families more comfort when we're finally able to do so."
Photo description:
From left: Alex Seaman, Melanie Torley, Craig Shepherd and Philip Griffiths of Hammerton's Funeral Directors with Sam Kershaw, CEO of Funeral Partners.